third order
december 08
1/21/10: We're still alive, but running slow. Check the guidelines page for more details. New issue coming in 2/10.
Are you awake?
We sleep through so much of our lives. Crumbs left on the table at breakfast, shoddily-ironed shirt collars, cold hands on computer keyboards, shaky deals in boardrooms, correct change given at the corner deli, home on the highway breathing in the steam and smoke and sweat and human output, the lot of it forgotten and forgettable as we walk through our front doors. Climbing into bed, it's another day gone, and what have we done, stuck in our closed-off, safe, tight little worlds? What have we really done?
These are stories about awakening. We stand with Eve Tushnet's hard-line resort manager, fearing the entrance of plague into beloved Octaviana; we walk alongside RJ Astruc's journalist on the cold planet Azagarth, and witness unspeakable, terrible and wonderful things; we watch an artist and robot-owner break out of her own robotic life, and, finally, experience the scattered recovery of a burn victim in a hospital that could be right down our street. And through it, where is God?
Perhaps he's just beyond the curtains we've erected for ourselves. She's waiting for us to ask that question we're afraid of asking, to step out into the unknown. To wake up to the reality of love, life and that things are a little more complicated than we ever dreamed they would be.

That's what it takes.
Awaken. Worlds await you.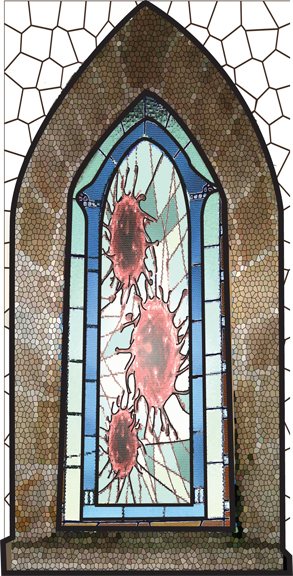 "Love"
by Eve Tushnet
"A Believer's Guide to Azagarth"
by RJ Astruc
"Beta Unauthorized"
by S.K. Richards
"Sifting through Ashes"
by Christie Lambert
Illustration by Laramie Sasseville
site info
© all contents 2007-2008 Karen Osborne and respective authors and artists. Design by Andreas Viklund.